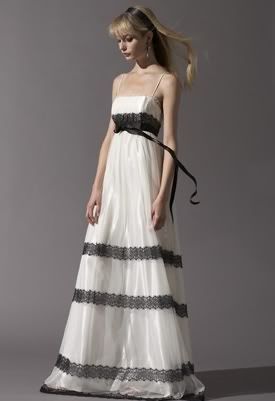 Jessica McClintock Taffeta Prom Dress

You might be dubious about wearing a dress with a color scheme seemingly inspired by Christmas. The detail on this gorgeous Jessica McClintock taffeta dress may just change your mind, though. A rich, almost crepe-like material in a deep olive hue sets the tone for a delicate burgundy ribbon pattern that hypnotically winds its way around and down the dress.
Maybe you're sold on the colors, but you're eyeing that questionably wide bow that ties, birthday present-style, around the large waistband. Appreciate that it cinches the dress in just the right spot, though, and allows the pattern to be just slightly broken up. That allows the shoulder-baring top half to stand apart. It's true that short prom dresses can be trashy at times, but the bottom half of this dress easily solidifies its elegance and class. A frothy, sheer tulle petticoat peeks adorably out from beneath the slightly flared skirt, lending the dress its harmonious finish.
It's rare to find a dress that works as beautifully with deeper tones and golden tans as well as this does. The combination of unstoppable shine and vivid color make it the perfect foil for bronzed, summer-ready skin! Keep things gleaming by pairing this with strappy gold heels and jewelry in similar hues. Your accessories should be minimal; the ribbon décor on the dress does all the work for you!
Jessica McClintock Prom Dress